Germana
"I love making honey wax, waxing my clients and providing the best service with the most entertaining and comfortable atmosphere possible."


Germana has come to us all the way from Fortaleza, Brazil, a small town just north of Rio de Janeiro. Growing up on a ranch that held and bred the wilds of Brazil, Germana became enamored by her father's bee farm. She began to experiment with the honey from the bee farm and began creating 100% Pure Honey Wax.

Since 2000 she has been making (herself) the best wax ever, made with only HONEY! No petrolium wax, no chemicals or artificial additives, only HONEY!

Coupling her Business Degree from the University of Brazil (Minor in Art) with her innate entrepreneurial spirit, Germana perfected her recipe and perfected her art as a body waxing artist. Her business and reputation grew quickly, and Germana knew it was time to take her product and services to the next level. Ever the adventurer, Germana took the opportunity to build her business in the wilds of Los Angeles. She strongly believes that waxing is a service that should be performed by a professional that understands skin and loves to wax.In the short time Germana has lived in L.A. she has managed to grow an impressive private clientele as well as a reputation as a meticulous and professional body waxing artist. She came to fill a void of good, clean, licensed waxers here in L.A. Her method is near painless and her hand and eye is the perfect balance between artistic and technical. She strives for perfection. Germana loves that her clients can feel safe and confident with the knowlegde that she is a licensed Esthetician. Educated and an expert about wax and waxing and that she is from from Brazil!

Germana only uses her small-batch of custom-made honey wax made from wild honey bees. We are certain you will find her technique flawless and her honey wax the finest, highest quality in the business! She only does waxing and does it because she loves it!!

---
Patricia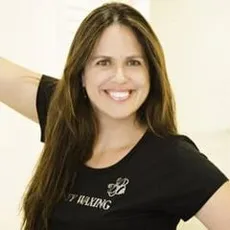 "I feel very fortunate to be part of Brazilian Honey Waxing and to be able to work with my dear friend Germana and be her business partner!"

Patricia had been an Esthetician since 2007. Prior to obtaining her Esthetic License she earned a degree in Accounting and worked as an accountant for many different companies in Brazil.

She was born in Sao Paulo and raised in a small vibrant beach town called Fortaleza, on the Atlantic side, where Brazilian waxing is in high demand due to the high temperature and wonderful beaches. After living in L.A. for some time and having numerous bad and painful waxing experiences at various dubious waxing/nail salon clinics, she knew there was a better way and technique to wax. Like all things in life training/technique and quality products make a huge difference, that is why she loves Germana's technique and her 100% Pure Honey Wax.

Her goal is not only to wax but also educate her clients on how to care for their skin, before, during and after wax treatments, so that all their experiences are both enjoyable and positive. She feels confident about her service and welcome you to check out the "BEST Brazilian Waxing ever in LA".

---